The Havana Club Trio LIVE at The Carton House, Feb. 2015
The Havana Club Trio LIVE at The Carton House, Feb. 2015
Cuba has been getting quite some coverage in the news this month and to celebrate the apparently imminent end to an era in Cuban History, you can check out our very own Cuban Walkabout Act "The Havana Club Trio" exclusively at The Carton House's Wedding Event on February 22nd, 2015 !!
If you are looking for that WOW Factor at your wedding, then this Unique Wedding Band is ideal for you. The Havana Club Trio are not simply different to your ordinary Wedding Entertainment, but the band also makes sure to "walkabout" and to interact with your guests, which without fail keeps your party entertained from start to finish of their set.
Imagine your fiancé's surprise seeing this Cuban Walkabout Act start off the celebrations with that added Latin Flair, especially if she or he harbours a love for Latin culture or has family in Cuba her-/himself.
The Havana Club Trio is undoubtedly one of our most Alternative Wedding and Corporate Entertainment Acts for Hire in Ireland and to catch the band LIVE at the Wedding Fair at The Carton House Hotel on February 22nd, 2015 – sure is a very special and unique opportunity!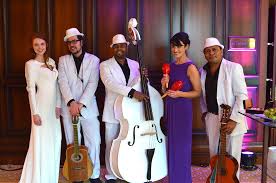 If you should have any further queries, please feel free to call Mark or Tania on +353-1-201 3660. We would be happy to assist with every question you might have.